MORGUE CRISIS LIFT
PORTABLE DOCK LIFT FOR MOBILE MORGUES
Save on Transporting Time & Labor Costs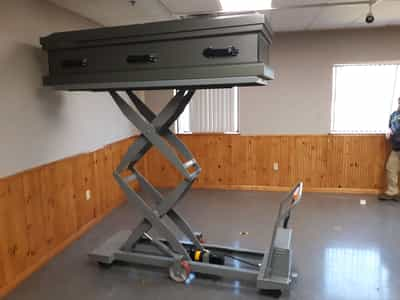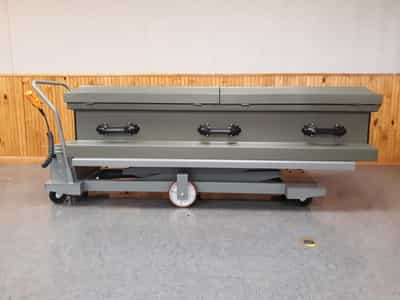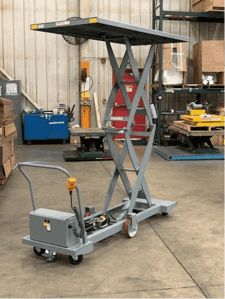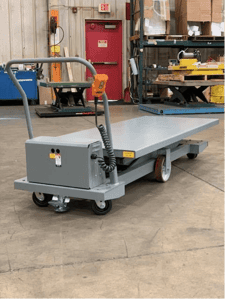 CAPACITY: 500 lb. uniform load.
PLATFORM: 30" x 74" smooth plate
BASE FRAME: 17-3/8" x 66-3/4" (approx) with maintenance device.
BASE FRAME FEATURE: Casters: Four swivel 5" texite casters mounted to end of base frame for lengthwise traverse. Two 8" cast iron with poly tread mounted in center. Includes one foot operated floor lock on one end. Removable push bar included.
LOWERED HEIGHT: 14-1/2"
VERTICAL TRAVEL: 68"
RAISED HEIGHT: 82-1/2"
ELEVATING TIME: 41 seconds (approx.), Adjustable with pressure compensated flow control.
POWER UNIT: Internally mounted with 12 Volt DC motor, hydraulic pump, valving, and reservoir filled with oil.. Includes battery and charger mounted on shelf off end of lift.

PRIMARY VOLTAGE: 12VDC
CONTROL VOLTAGE: 12VDC
CONTROL: NEMA 4 handheld push button UP/DOWN. Includes 10 feet of straight cord (usable length may vary). ACTUATION One 2-1/2" double acting cylinder with chrome plated rod, power up/power down. BUSHINGS All pivot points equipped with Teflon lined bushings. Leg rollers have exclusive wear indicators.
FINISH: Red self-priming machinery enamel with platform painted beige.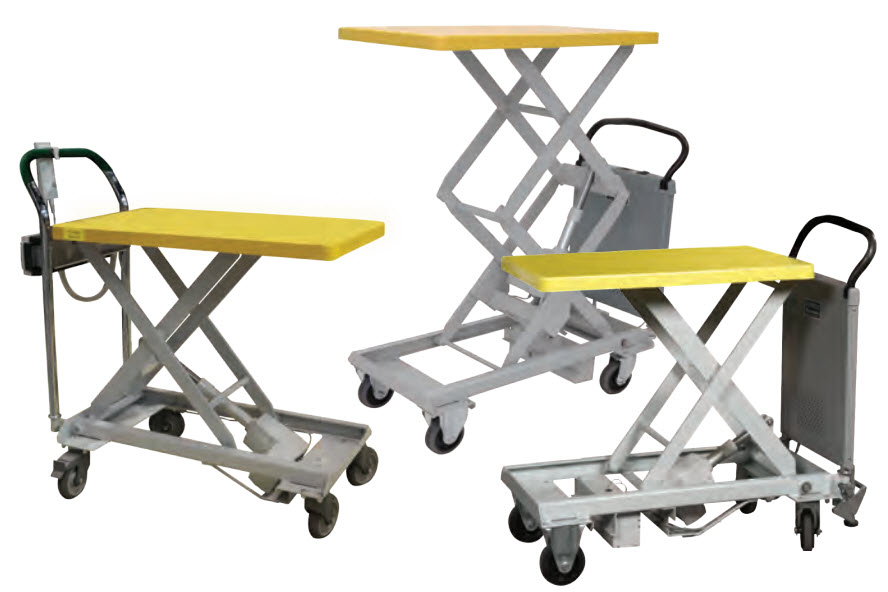 Crisis Lift vs Wooden Ramp
| | |
| --- | --- |
| CRISIS LIFT vs. | WOODEN RAMP |
| REDUCED FOOTPRINT OF ONLY 16 SQUARE FEET (30" x 74") | LARGE & OBTRUSIVE FOOTPRINT OF 325+ SQUARE FEET (54'LONG BY 6' WIDE) THAT WILL TAKE UP CRITICAL LOADING DOCK & PARKING LOT SPACE FOR THE LONG TERM |
| PROVIDES ALL WEATHER TRANSPORTING DUE TO FLEXIBILITY TRUCK RE-POSITIONING & CRISIS LIFT | STATIONARY TRUCK & WOODEN RAMP IS EXPOSED TO WEATHER ELEMENTS |
| HYDRAULICALLY RAISES TO MULTIPLE TRAILER HEIGHTS PROVIDING USAGE TO FUTURE MOBILE MORGUE INVENTORY ONLY AVAILABLE AT LOWERED HEIGHTS | CREATES RESTRICTIVE RAMP HEIGHT THAT WOULD BE LABORIOUS TO REVISE. |
| CREATES A LEVEL TRANSFER OF CORPSES TO TRUCK TO AVOID EMBARRASSING MOMENTS | PITCHED WOODEN RAMP, CAUSING BACK-ROLLING, SIDE ROLLING OR SPEED ROLLING BY TRANSPORTERS |
| ALLOWS SINGLE PERSON TO TRANSPORT THUS REDUCING DEPENDENCY ON HOSPITAL STAFF | REQUIRES ONE PERSON TO PULL + ONE PERSON TO PUSH A STRETCHER UP THE WOODEN RAMP |
| PROVIDES MORE PRIVACY & DIGNITY TO DECEASED BY CAREFUL AND PROFESSIONAL TRANSPORTING | LARGE FOOTPRINT ATTRACTS ATTENTION FROM ON-LOOKERS & SURVEILLANCE AND CAN CAUSE UNSAFE TRAVEL. |
| ALLEVIATES PERSONNEL BACK STRAIN TO REDUCE STAFF BURN-OUT/WORKERS COMP CLAIMS | STAFF IN TRAILER WILL HAVE TO CONTINUOUSLY BEND DOWN TO PICK UP 300+ LBS, THUS CAUSING STAFF BURN-OUT |