Edge of Dock Levelers - Critical Piece to Safe Dock Design
Freight depots with trucks of a consistent truck bed height opt for edge of dock levelers. They are low cost and don't require breaking concrete. They normally mount to the face of the dock and can be placed in a small recessed pit. This is a light duty low cost alternative to the in pit style full size dock leveler. Also used when a pit cannot be utilized or as a retrofit. It is typically used in an environment with minimal difference between trailer bed and dock and the unit is typically mounted to the dock face. They are not recommended for high volume dock traffic!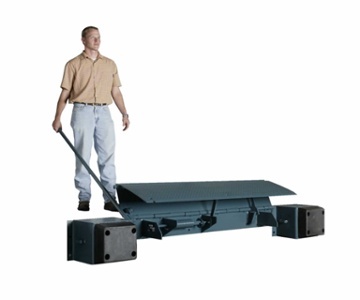 Our service crews have the most common dock leveler parts on their trucks for all manufacturers of edge of dock levelers for loading docks: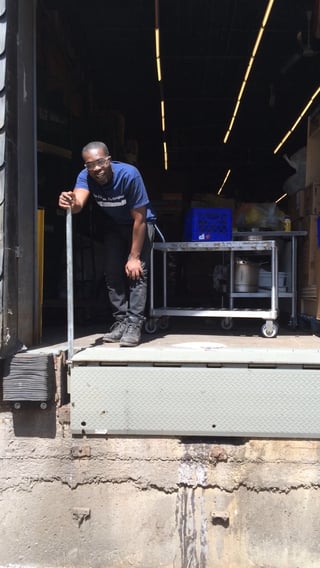 Bluff Edge of Dock Leveler, Blue Giant Edge of Dock Leveler, Copperloy Edge of Dock Leveler, DLM Edge of Dock Leveler, Kelley Edge of Dock Leveler, PowerAmp Edge of Dock Leveler, McGuire Edge of Dock Leveler, Serco/Kelley Edge of Dock Levelers, Vestil Edge of Dock Levelers, Rite Hite Edge of Dock Levelers
Our installation company can provide electric edge of dock levelers using hydraulic pump systems. They represent a low cost hydraulically operated unit that bridges the gap between building and truck where a minimal variance exists between dock and truck with a recommended working range of +/-3" and a maximum operating range of +/-5" above and below dock level. A standard Nema 4 single pushbutton control provides easy activation of deck and lip. It has quiet dependable operation via a two cylinder design with deck and lip cylinders.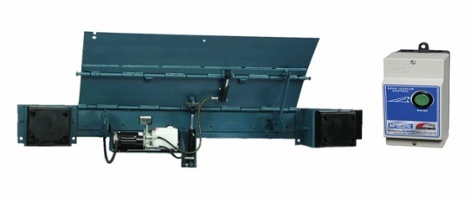 "Top-Of-Dock" Edge-Of-Dock
The Top-Of-Dock levelers are the industry standard for surface-mounted dock levelers, and are by far the most popular choice of motor freight industry professionals when they are working at low docks. The initial cost is low. They're easy and safe to operate. Their rugged design requires little maintenance.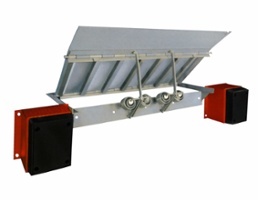 We have edge of docks in stock. Schedule an estimate today for a quick edge of dock installation by one of our service crews.
For more information, please give us a call at 973-471-4060 or email us at: info@dockndoor.com We service Northern New Jersey (Bergen, Passaic, Union, Essex, Morris, Hudson, Middlesex, Hunterdon, Mercer and Somerset county/counties), Manhattan, New York City, Brooklyn, Queens, Staten Island, Bronx, Westchester and Rockland.

For 24 hour emergency service, please contact us at 800-362-6367.