Security grilles provide a simple and unobtrusive hurdle against theft and debris, on openings where maximum visibility and minimal impact on the appearance of a building are desired.
They can be manufactured with aluminum or steel (either galvanized or stainless), and they can have an optional electric motor as well. Their lightweight design makes them easy to operate and their construction is built to last. Our wide array of security grilles provides both reliability and peace of mind for business owners.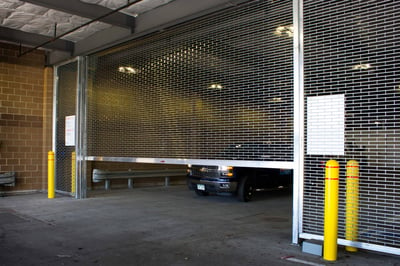 Upward-Coiling Security Grille in Parking Garage
At Loading Dock Inc., we sell, install, repair, and service upward-coiling security grilles and side-folding security grilles.
Our security grilles offer maximum airflow and excellent visibility. Not long ago, you could only acquire a galvanized steel or aluminum mill standard finish on a grille's curtain. However, nowadays, you can find other models other than the most common "jailhouse" look and better yet, over nearly 200 Tiger Drylac RAL color choices!
---
Our upward-coiling security grilles are ideal for storefronts (food courts and cafeterias for example) because they offer a good-looking yet practical means to secure areas where public access restriction is needed. Their special design provides safety without sacrificing air circulation, light infiltration, or visual access.
High-Speed Roll-Up Security Grille



High-Speed / High-Performance Security Grilles




These are ideal for parking garages because they are specially designed to reduce the risk of tailgating and piggybacking activities and restricting access to unauthorized people to the facilities, and they even allow optimal traffic flow. Our open-air model grilles allow full visual access and air circulation without neglecting the priority: providing security. Additionally, some models don't even require a lot of maintenance or replacement parts, except for routine checks.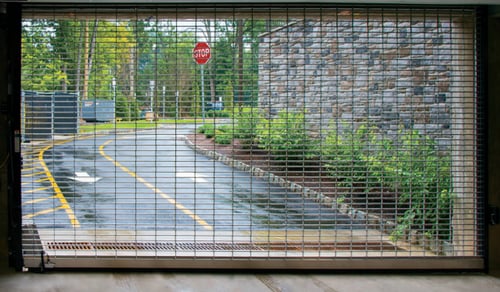 High-Speed Roll-Up Security Grille

---



Side-Folding Security Grilles
Our side-folding security grilles offer a wide range of options and features, including different curtain colors, patterns, and finishes.

Side-Folding

Full-Enclosure

Security Grilles
Our side-folding full-enclosure security grilles are ideal for retail applications in malls (such as shops and cafeterias) and airport concourses mainly because they offer a secure barrier against theft and debris. We have four different panel material models to choose from, all of which are available in standard and wide-body variations. These models are perforated steel, aluminum, tempered glass, and clear polycarbonate.
Side-Folding Open-Air Security Grilles or Pull-Out Gates
Our pull-out gates or side-folding security grilles series are an ideal option for applications where security is the priority, but maximum air circulation, light infiltration, and interior visual access is still desired. One of their main features is that they require a short space for installation, offering superior compactness. These grilles are not only handsome but secure against theft and debris with almost endless design options for customization.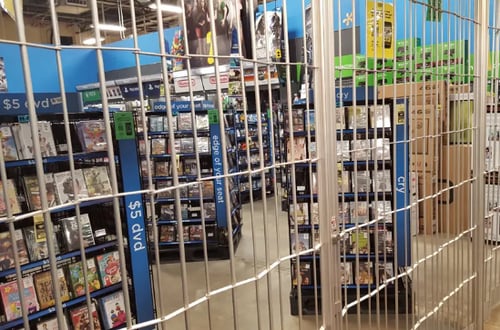 Don't know where to start? Contact us! One of our expert members of the team will assist you in finding which option is right for you. Call 973-471-4060 or email info@loadingdock.com

We've been serving New York City Metro area, and Northern Jersey for 40+ years!