An air curtain (also known as an air door) is a device mounted over an entrance to a building (i.e. your loading dock) that creates an invisible air barrier. It does this by blowing air over the doorway to separate efficiently two different environments, without limiting the access of the people.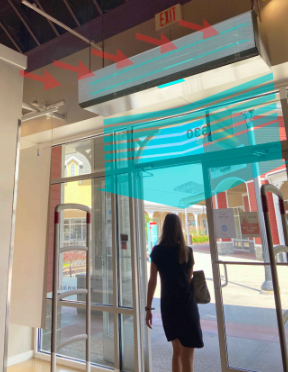 Benefits of Installing an Air Curtain in Your Loading Dock
Air curtains offer many benefits such as:
✓ Climate control (maintaining interior temperature)
✓ Improve air quality: Air Purification (killing 99.9% of COVID-19) passing through the system
✓ Prevents debris, and dust from coming in
✓ Energy savings (by controlling your temperature)
✓ Insect control (preventing insects from entering through open doors)
✓ Ideal for cold storage applications (maintaining interior temperature)
✓ It keeps the atmosphere clean from airborne, pollution, smells, odours.
They can be up to 80% effective in preventing infiltration through an open door, according to the ASHRAE (American Society of Heating, Refrigerating and Air Conditioning Engineers) handbook.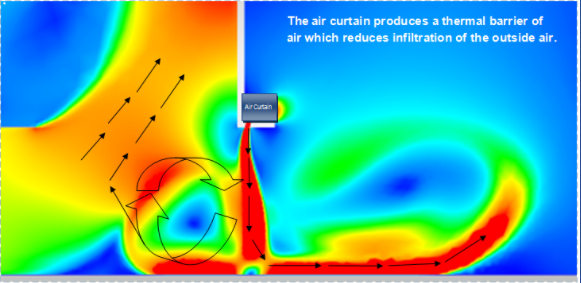 Explanation of How an Air Curtain (Air Door) Works
Air Curtain Applications:
Some of the places that can benefit by installing an air door/air curtain are:
✓ Transportation terminals
✓ Education & institutions
✓ Train bay doors
✓ Hazardous & corrosive hospitals & health care
✓ Food service
✓ Cold storage
✓ Retail stores
✓ Hazardous & corrosive
✓ Shipyard doors
✓ Aircraft Hangar doors
✓ Manufacturing and warehouses
✓ Entertainment venues
✓ Loading docks
✓ Hangars

We have the most powerful industrial air curtains designed for aircraft hangar doors, shipyard doors, and other extremely large industrial openings up to 50 feet in height.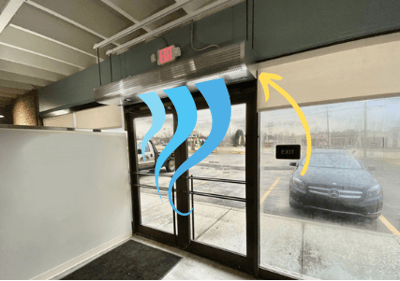 Air Curtain | Air Door
Air Curtains in Loading Docks
Air curtains installed in loading docks are an ideal solution to significantly limit energy loss and higher operating expenses. Many dock doors have dock seals or dock shelters to reduce infiltration by outside elements during loading and unloading, but these don't eliminate the problem entirely. Dock doors are left open while the truck backs in, with pit-style dock levelers. Some trucks are too small to be properly contained by a dock seal or a dock shelter. While cross-docking is taking place, there are also areas around the truck hinges, dock leveler lip, and dock bumpers that let air into the building.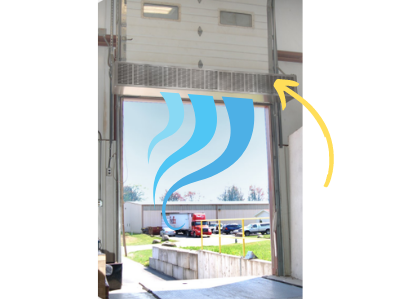 Air Curtain Installed in Loading Dock


Air Curtains in Coolers and Freezers
Because of their effectiveness in dealing with temperature differentials in airflow, air curtains are a positive asset for freezers and coolers. The refrigeration equipment doesn't have to work as hard to maintain the necessary temperature, by reducing warm air infiltration into the building and/or freezer, improving the working life of the equipment and saving energy costs.


What Kind of ROI Can an Air Curtain Customer Expect?

McCormick Place West's management ran some data calculations that considered a total of 260 hours per year with a 26-week heating season with each door open 10 hours weekly.

This center, has over 375 linear feet of doors for pedestrian traffic and freight. During the setup period for major winter conventions and trade shows these doors are typically open 10-14 hours every day. There was a calculated hourly savings of $269.79 when all the doors were open at the same time, when air curtains were in place.

The studies referenced here indicate that air curtains offer operational savings in the battle against rising energy costs. Facility managers should be considering every possible energy advantage, as energy prices aren't going to go down any time soon.

Contact us. Our experts are ready to support you in any way.




Areas we service: Northern New Jersey (Bergen, Passaic, Hudson, Union, Essex, Morris, Hudson, Hunterdon, Middlesex, Mercer and Somerset county/counties), Manhattan, New York City, Brooklyn, Queens, Staten Island, Bronx, Westchester, and Rockland.