Fire-rated rolling doors, smoke curtains and fire curtains present crucial features like certain fire-resistant materials and are part of a passive fire protection strategy. Their "mission" is to save lives in the event of a fire. Period.
These have two vital safety features that can virtually make the difference between life and death, which are: when closed, they form a barrier to stop the spread of smoke and some very toxic substances and of course, fire; and when opened, they represent a means of escape.

Fire-Rated Doors and Fire-Rated Curtains


The fire-rated doors are built to withstand roaring fires for as long as they can. What they do is compartmentalize and delay the spread of flames, smoke, and other toxic substances between areas to allow employees to safely escape the facilities. These doors are fitted with intumescent strips or seals that dilate to fill the gap between the door and its frame, containing the dangerous spread of smoke and fire for a determined amount of time, depending on the materials it is built from, and its fire-resistance rating.






How Frequently Should Fire-Rated Doors Be Inspected?
Due to their intrinsic importance, it is vital they receive regular inspections. The times depend on a variety of factors, however, periodic checks should be performed every six months at least.

New buildings may require more frequent inspections during the first year, while doors with a high-traffic volume should be examined on a monthly or even weekly basis, because they are more susceptible to damage, due to its more frequent use. It is important to emphasize that all users should play a proactive role in reporting maintenance issues so that any failure can be quickly addressed.

Due to its importance, it is imperative that trained fire door inspectors carry regular fire door inspections to ensure they are fit for their purposes.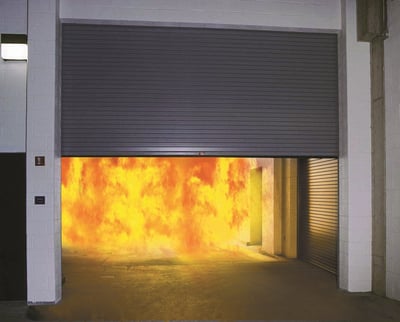 Fire-Rated Doors
Landlords have a legal responsibility to ensure their tenants are safe in their properties, and they can be criminally prosecuted if they do not attend to their legal duties, which consist of a requirement for a fire risk assessment in all non-domestic buildings, including the common areas in multiple occupation apartments or houses. The owners must also review the fire risk assessment on the entrance doors and implement an appropriate maintenance plan.
Fire doors are recommended mostly in premises where the risk is most imminent, such as kitchens or rooms with a high amount of electrical devices. When acquiring a new property, you should check the regulations that ensure certain doors have to be fire doors.
We advise you to get professional assistance to help you comply with all the fire-safety-related regulations. There are some important features to consider at the time of choosing the right fire door for your facilities, such as the FD code, which shows how many minutes of fire a door can withstand. The two most common are FD30 and FD60, which can resist for 30 and 60 minutes respectively.

Something just as important to keep in mind is that in most cases, people don't die over fire, but from inhaling smoke, so try to look for a door set with cold smoke seals. There is a lot more information you can find about fire regulations in official documents.

Fire-Rated Doors Checklist
Here we share an easy checklist for you to keep in mind when researching for fire doors:
- Certification: All fire doors should be tested and certified by a third-party company. The whole door layout must be checked, including ironmongery, hardware and furniture, so they can ensure its well functioning.

- Seals: This is a crucial element of a fire-door since it is the intumescent seals or strips that when a certain level of heat is sensed, expand, and seal the remaining gaps of the door to stop fire and smoke from escaping that area.
- Gaps: In order to prevent fire or smoke from escaping through the cracks, it is vital that the gaps around the door must not measure more than 4mm at the moment of closing the door.

- Closures: Self-closing devices are often fitted to fire-doors in order to ensure they are always closed, for it is of the utmost importance to keep them closed at all times to prevent fire and smoke from spreading.

- Hinges: It is important to perform frequent preventive maintenance on fire-doors and that all repairs are only performed by specialists. There must never be missing or broken screws and all hinges must always be firmly fixed to keep the doors functional.


Finally, we urge business owners and managers to review the fire door regulations, both to be in compliance with the law, but mostly, for safety reasons.

You can check the NFPA 80 and NFPA 105 regulations, which include detailed requirements for fire door inspections. Door assemblies are required to be inspected at least annually, however, they specify that after installation and maintenance work, additional inspections must be performed.

At Loading Dock, Inc., we have a variety of fire-rated roll-up doors and smoke curtains in New York City and New Jersey for different applications such as commercial, industrial, institutional, and retail projects.
Thanks to our wide variety of commercial fire-rated doors we are able to meet the most demanding fire safety standards, unusual opening sizes, and aesthetic requirements.

Our certified and expert technicians have the knowledge to install, repair, maintain and test fire-rated doors.

Contact us! One of our experts will gladly help you choose the best fire-rated doors based on your facility's needs.
Remember we also install, repair, and service loading dock equipment, industrial overhead doors and commercial overhead doors in New Jersey and New York City areas.

We service Northern New Jersey (Bergen, Passaic, Hudson, Union, Essex, Morris, Hudson, Hunterdon, Middlesex, Mercer and Somerset county/counties), Manhattan, New York City, Brooklyn, Queens, Staten Island, Bronx, Westchester, and Rockland.

Do you want to learn more? Call us at 973-471-4060 or email us at info@loadingdock.com

It will be a pleasure to assist you!