Your loading dock plays such an important role in your business that it should be performing at its highest level at all times.
A preventive maintenance will extend the life of your loading dock equipment. It will help your business perform in a more reliable way as it will prevent costly unexpected repairs thanks to the early detection of any possible operational malfunction. If your equipment is out of operation, it can affect your productivity levels and also the reputation within your customers by not being able to deliver the results in time.

Create a Preventive Maintenance Program for Your Loading Dock Equipment

Another benefit of scheduling periodic inspections is that it will create a safer work environment as it will prevent accidents/injuries within your personnel.
Periodic preventive maintenance and careful inspection can reduce both, downtime and repair expenses, while at the same time extending your equipment useful life and operating efficiency.
In summary, these are some of the benefits of having a preventive maintenance plan:
- Extend the life of your equipment
- Increase the efficiency and reliability in your equipment
- Decrease the probability of equipment malfunctioning
- Create safer work environment
- Reduce your downtime and also the long-term repair expenses

Loading Dock, Inc. has created different types of plans that are designed to meet the need and frequency of your business. Let us do an on-site evaluation to determine what plan is best for the needs of your company and your budget.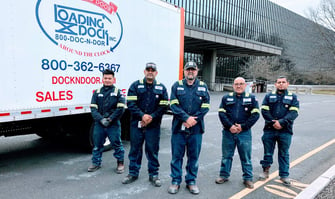 Schedule an On-Site Evaluation with Our Team


We also offer maintenance plans for commercial garage doors and industrial doors. Contact us at 973-471-4060 or email us at: info@dockndoor.com. For 24 hour emergency service, please contact us at 1-201-273-7445.