In some facilities, high-performance doors open and close more than a hundred times per day, which means a significant potential source of energy loss mainly in northern climates where the external temperature varies by more than 100 degrees between summer and winter.
In order to keep inclement weather outside in the very cold weather conditions, high-performance doors are engineered to meet the toughest environmental challenges.
At Loading Dock, Inc., we sell, install, and service fabric, rubber, and metal high-performance doors and high-speed doors.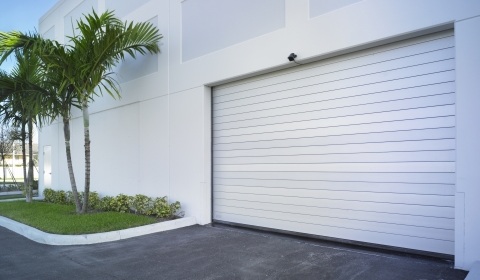 Benefits of High-Performance Doors in Cold temperatures
Every business has different needs and expectations when it comes to service doors.
These are some of the benefits that you get when installing a high-performance door when businesses' operational demands require an overhead door that opens and closes as fast as possible to keep the proper temperature inside their facilities:

1. Fast Opening and Closing Speeds (High-Speed Doors)
The amount of time that the interior of a building is exposed to the outside elements will make the difference in keeping or not an inside comfortable temperature. Speeds of opening and closing up to 100 inches per second minimize this exposure.


2. Limited Air Incursion
As there are areas of the country experiencing sub-zero temperatures in the wintertime, it is especially important to reduce air exchange between comfort-controlled interior environments and the cold weather outside with the high-speed doors.

3. Energy Savings
Insulated panels give a thermal feature that minimizes energy loss when closed. High-performance doors are made of high energy-efficient materials, such as insulated panels with high R-value complying with this purpose.

4. Tight Seals
When the door is closed, specially designed seals on the bottom and sides of high-performance doors form a tight seal protecting against the cold weather and it also helps in preventing ice build-up around doorways or frost. You will save money with effective seals that ensure your building's HVAC system doesn't have to work that much to maintain a constant, comfortable temperature inside the building.


Steps to Prepare Your High-Performance Doors for Winter
Rytec recommends taking these 3 actions to ensure that your high-performance doors will help keep your facility warm during the coldest time of the year.

1.- Ensure the Overhead Door Functions Properly
Make sure your commercial garage door runs smoothly and doesn't need any maintenance before cold weather arrives, so you will not have to make any repairs during the coldest months.

2.- Make Sure the High-Performance Door Closes Properly
To avoid cold air entering from the outside, be sure that the overhead door closes quickly and fully.

3.- Check the Door Seals
Replace damaged or missing door seals of the sides and bottom edges of the door. Do this before wintertime to avoid unnecessary energy loss.





Powerhouse® High-Performance Rubber Roll-Up Doors
If you're looking for an exterior door proven to endure adverse weather conditions while requiring minimal maintenance, Powerhouse® high-performance rubber roll-up doors are perfect for heavy equipment, storage, manufacturing, warehousing, and more. It will give you the power and dependability you need when looking for a heavy-duty solution.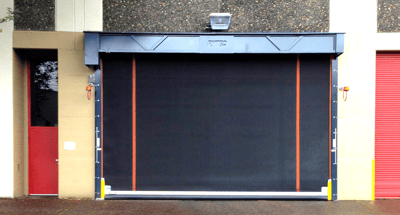 Powerhouse® High-Performance Rubber Roll-Up Door Brochure

Be prepared for cold weather. Maybe it is time for an energy and efficiency upgrade if you use your facility's older sectional or panel doors.

Contact us. Our experts look forward to discussing your needs.
Remember, we also install, repair, and service loading dock equipment, as well as industrial overhead doors & commercial overhead doors in the New Jersey and New York City area.
We service Northern New Jersey (Bergen, Passaic, Hudson, Union, Essex, Morris, Hudson, Hunterdon, Middlesex, Mercer and Somerset county/counties), Manhattan, New York City, Brooklyn, Queens, Staten Island, Bronx, Westchester, and Rockland.

We also provide the 24/7/365 support you need to keep your operations running smoothly.