Raised Dock Bumpers should be considered when there is a difference between the dock height and the trailer truck height. If the truck height is higher than the dock, the truck might miss the bumper. Using Raised Dock Bumpers can prevent damage to the dock equipment and architectural structure of the building , this will save you money from spending on damaged loading dock and buildings.
For an instance, on the pictures below you will know why it is important to acquire Raised Dock Bumpersin during loading and unloading:
See that the truck trailer height in the picture below is higher than the dock height. The truck trailer height is 51" and the dock height is 45". There is 6" difference, and the truck is hitting the loading dock & building.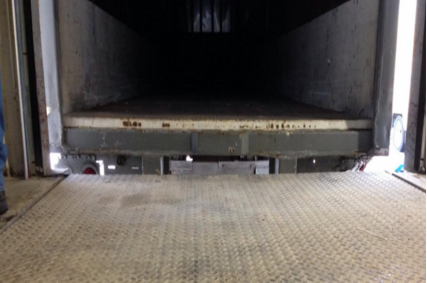 This may lead the ICC bar of the truck to hit the loading dock leveler that may cause damage to your Loading Dock equipment.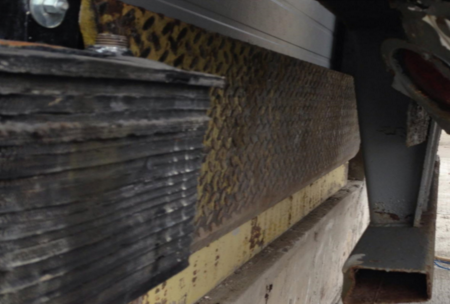 Applying 6" raised bumpers with steel gussets to take the truck impact will prevent the ICC bar of the truck from taking the impact.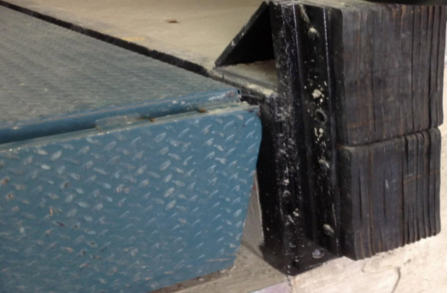 As a result there will be no building damage and no loading dock damage. Dock seals will be mounted above the bumpers. As we all know, Loaded trucks only stop when they hit something.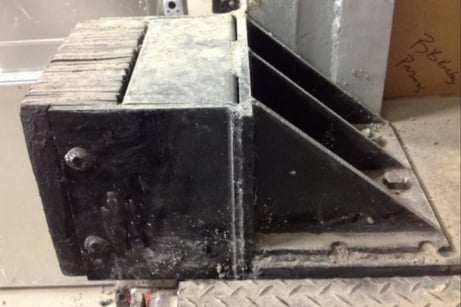 Loading Dock, INC. have many customers who are experiencing the same problem. Loading Dock's Raised Dock Bumper Solution are in Many Sanzari, AMB and Prologis Buildings. The picture above is an example of our solution.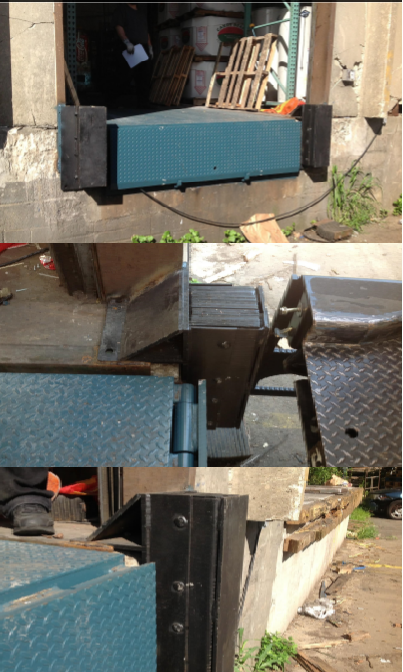 Raised bumpers on low dock height can prevent damage to the walls. You can observe on the picture above, that walls have been damaged and it happened before Raised Dock Bumpers are applied.
Loading Dock, INC. have been doing loading docks since 1973. Pictured here is Jai Patel's father installing his first leveller. Learn more about Raised Dock Bumpers and other accessories, then call or contact LOADING DOCK, INC and let us help you make your loading docks as safe and functional as possible.
For more information, please give us a call at 973-471-4060 or email us at: info@dockndoor.com We service Northern New Jersey (Bergen, Passaic, Union, Essex, Morris, Hudson, Hunterdon, Somerset county/counties), Manhattan, New York City, Brooklyn, Queens, Staten Island, Bronx, Westchester and Rockland.