A truck restraint (or a dock lock) prevents a truck from moving during loading and unloading. If a truck leaves the loading dock before loading and unloading is complete, workers can fall into the gap between the truck and dock, causing serious personal injury or death, and freight and equipment can be damaged. Get to know the 2 most common trailer restraint methods.
A trailer restraint should be able to interlock with a powered dock leveler so the dock leveler cannot operate when the vehicle is not restrained.
If the vehicle does not have a RIG bar or the trailer restraint cannot engage with the RIG bar, an alternate method such as wheel chocks must be used. The attendant must use the override function to allow the dock leveler to operate. In such cases, the vehicle's wheels should be chocked and precaution should be taken. Trailer restraints come in two designs:
1. RIG-DEPENDENT VEHICLE RESTRAINTS
The most common type of trailer restraint is the RIG-dependent system. Most over-the-road trailers have rear impact guards or RIG bars. RIG-dependent restraint systems use a restraint barrier that rises up, captures the trailer's RIG bar, and uses it to lock the trailer in place (Image 3 and Image 4).
A powered-activated restraint can use programmable controls that offer flexibility between the restraint and other loading dock equipment. A RIG restraint engagement sensor is standard on a powered-activated restraint system and optional on a manual restraint system. A manual wheel chock is a tapered block that is wedged in front of the wheels to prevent accidental movement.
RIG-dependent restraints are available in manual and powered activation designs. These restraints can engage underride guards from 7-1/2 to 30 in. off grade. A manual restraint uses a push bar to raise and lower the release latch on the restraint.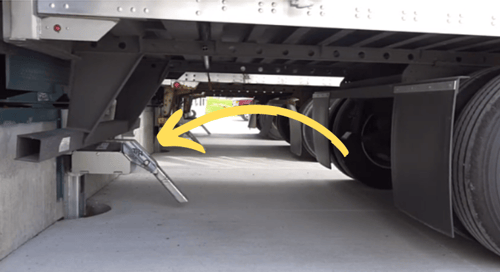 RIG Bar - Vehicle Restraint
A powered-activated restraint uses push buttons to operate an electric motor, pneumatic cylinder, or hydraulic pump and cylinder to raise and lower the restraint (Image 5). A powered-activated restraint can use a control system that offers flexibility between the restraint and other loading dock equipment.
2. MANUAL WHEEL CHOCKS
A manual wheel chock is a tapered block that is wedged in front of the wheels to prevent accidental movement. Since wheel chocks do not rely on an underride structure at the rear of the trailer, they are more universal. Wheel chocks can restrain trailers with underride guard systems and also those with hydraulic lift gates, tandem hitches, and damaged guards. All loading docks should have wheel chocks available.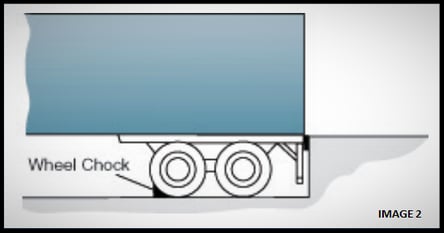 DISADVANTAGES OF MANUAL WHEEL CHOCKS:
- Dockworkers may find wheel chocks inconvenient and not use them.
- The trailer cannot be secured if the wheel chocks are lost or stolen.
- Manually positioning the wheel chocks can be time-consuming.
- A truck can pull a trailer over the wheel chocks, whereas a typical RIG vehicle restraint will withstand a force of more than 30,000 lb and is more effective at preventing unintended trailer departures.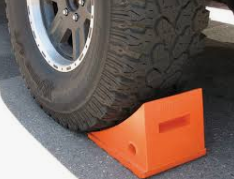 Wheel Chocks
Aside from using vehicle restraints such as wheel chocks and rig dependent restraints to protect your workers from accidents, you can count on our reliable servicemen at Loading Dock, Inc. for fast and dependable solutions for your loading dock equipment such as dock Levelers, dock scissor lifts, dock bumpers and dock shelters.
Need to Schedule Estimate?
For more information, please give us a call at 973-471-4060 or email us at info@loadingdock.com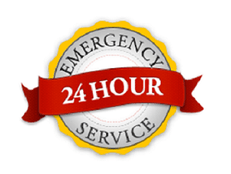 We service Northern New Jersey (Bergen, Passaic, Union, Essex, Morris, Hudson, Hunterdon, Somerset county/counties), Manhattan, New York City, Brooklyn, Queens, Staten Island, Bronx, Westchester and Rockland.