Did you know that more than 6000 forklift accidents occur when a lift truck is driven off a loading dock? According to NIST (National Institute of Standards and Technology), 70% of these accidents could have been avoided with proper safety precautions. Can vehicle restraints prevent loading dock separation accidents? The answer is YES, they can.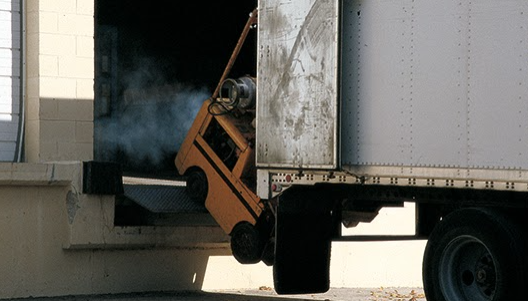 Forklift Accident in Loading Dock Area
Common Loading Dock Separation Accidents
- Trailer Creep: It is the repeated impact of incoming and outgoing forklifts that causes the trailer to roll ("drag") away from the dock. The wheel chocks do not work because they slip, lose, can be pushed or pulled out of the way, and require to put them in place a human help. It is also known as a dock walk.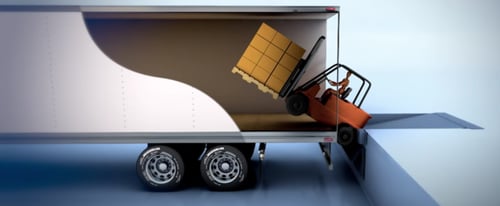 - Early Departure: Also known as the aggressive retreat is when a truck driver pulls away while a forklift is entering, exiting, or inside the trailer.


- Trailer Pop-Up and/or Trailer Upending: When loading or unloading takes place it can happen that the product and the forklift cause the trailer to shift.


- Landing Gear Collapse: Known as trailer rollover, it occurs when the landing gear leg of a stained trailer collapses. If the leg rolls in or out, the trailer leans sideways. Using a vehicle restraint with a swivel hook to secure the trailer can prevent it from tipping over onto the trailer in the dock position next to it.


---

Two Main Benefits of Installing Vehicle Restraint Systems:
1. Vehicle Restraints Prevent Dock Separation Accidents
You can prevent accidents by providing better communication between the truck driver and the dock attendant by installing vehicle restraints in your facility. Vehicle restraints, also known as truck restraints and dock-locks, keep a parked vehicle locked safely in place avoiding premature vehicle drive-off and creeping, reducing significantly the risk of accidents or damage around the loading bays.
The use of vehicle restraints minimizes accidents on the loading dock and improves productivity. They play a significant role in improving efficiency on the loading dock. While wheel chocks are another great way to stabilize vehicles, they are not fixed pieces of equipment and often are not in place when they need to be.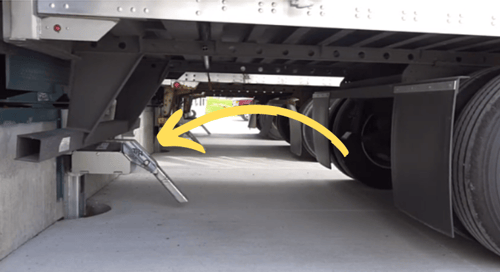 Hydraulic Vehicle Restraint (Dock-Lock System)
2. Prevent Cargo Theft
Vehicle restraint systems also help minimize the possibilities of cargo theft. With the vehicle locked in the restraint, a thief will be unable to drive it away without causing a major scene. In many cases, there isn't always someone available to monitor the truck cab at all times as loading docks are often busy and require much coordination.
---
Difference Between Mechanical and Hydraulic Vehicle Restraints Systems:
There are hundreds of models in the market. Below you will find the main differences between mechanical vehicle restraints systems and hydraulic vehicle restraint systems:
Hydraulic Vehicle Restraints (Hydraulic Dock-Locks):
✓ Dock attendants use a control panel to operate the arm.
✓ An internal automatic pressure switch keeps the arm of the restraint in a locked position while in operation.
✓ Higher-priced than mechanical vehicle restraints
Mechanical Vehicle Restraint (Mechanical Dock-Locks):
✓ A safer alternative to wheel chocks alone
✓ Lower-priced than hydraulic vehicle restraints
✓ Very simple to operate and easy to install
✓ Secure hold even during power outage situations

At Loading Dock, Inc. we have been working with the best manufacturers in the country such as McGuire, Blue Giant, Koke, Inc., and Pentalift for 40+ years.
For more information about vehicle restraints (trailer restraints, truck restraints), dock levelers, or any other loading dock equipment, please give us a call at 973-471-4060 or email us at info@dockndoor.com


We service Northern New Jersey (Bergen, Passaic, Hudson, Union, Essex, Morris, Hudson, Hunterdon, Middlesex, Mercer, and Somerset county/counties), Manhattan, New York City, Brooklyn, Queens, Staten Island, Bronx, Westchester, and Rockland.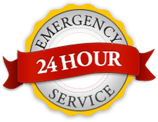 Suggested Articles:
- How to Prevent Loading Dock Problems
- Vehicle Truck Restraints 101
- Which Dock Bumper is for Me?