When you're looking for a dock plate/dock leveler repair, you want it to be fixed quickly. As long as it's not functioning well it may affect the productivity level of your business and will take a negative effect on your profit. You also want that kind of loading dock repair service that will make your dock levelers work efficiently for a long time, delivering convenience and safety.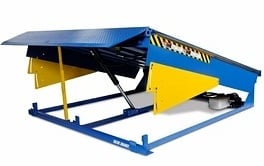 Blue Giant Hydraulic Dock Leveler


Loading Dock Inc., has an extraordinary repair team that can replace and repair any kind of damage to loading dock equipment, Including service, replacements, parts, and repairs for your Blue Giant dock plate equipment.
Blue Giant dock levelers started manufacturing dock leveler plate equipment in 1963. They offer dock levelers for any type of material-handling operations.
Blue Giant Dock Plate Equipment That We Service:
1. Pit Style Dock Plates Repairs | Dock Leveler Repairs
We service Blue Giant's hydraulic, air-powered, and mechanical pit-style dock plates (also known as dock levelers).
2. Other Blue Giant Products That We Repair/Service:
| | |
| --- | --- |
| | |
| | Pour-in-Pans |
| | Curb Angle Kits |
Any kind of loading dock equipment can become rusty, worn out, and more likely to malfunction over a long period of heavy use. The unquestionably best and budget-friendly solution to your damaged Blue Giant loading dock plate/dock leveler equipment is to have them fixed and replaced by our skilled team.
An excellent performing and safe to use loading dock plate equipment are keys for productive business, good profits and fewer accidents in the work area. Click the button below to schedule an estimate.
Get your Blue Giant loading dock plate/dock leveler equipment repaired. For more information, please give us a call at 973-471-4060 or email us at info@dockndoor.com.
We service Northern New Jersey (Bergen, Passaic, Union, Essex, Morris, Hudson, Middlesex, Hunterdon, Mercer and Somerset county/counties), Manhattan, New York City, Brooklyn, Queens, Staten Island, Bronx, Westchester and Rockland.