Are you planning to get a PowerAmp vertical dock leveler for your storage facility? Keep in mind that vertical dock leveler installation requires proper execution and should be provided by knowledgeable loading dock service professionals. Every single detail of the installation; from wall foundation preparation up to the final installation process, should be meticulously performed.
→ Suggested Read: What is a Dock Leveler? ←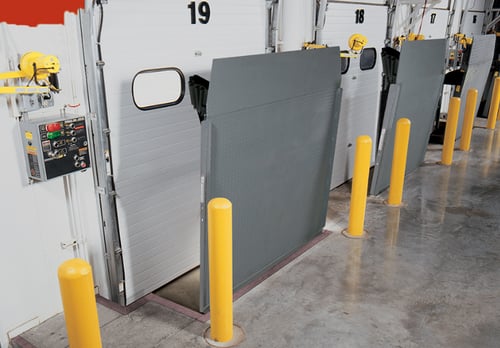 Vertical Dock Levelers in Loading Dock Area
Why Installing a PowerAmp Vertical Dock Leveler?
1. Environmentally Friendly:
The PowerAmp-VS series leveler stores in the vertical position allowing the door to form a perfect seal to the pit floor. Compared to "pit style" levelers, which can radiate expensive conditioned air to the outside of the building in the stored position, vertical dock levelers can produce savings equivalent to "one ton" of refrigeration in the stored position alone. A variety of deck, pit, and face-mounted draft seals can produce even greater tangible savings, reducing energy loss while the vertical dock leveler is in use.


2. Cleanliness:
Highly regulated industries such as the "food industry," choose PowerAmp-VS series levelers for cleanliness improvements in the loading dock area. Access for cleaning, overall visibility, and rodent control is a notable improvement over conventional pit-style levelers.
Improved productivity and security: A "shelf style" vertical application can permit hinged truck trailer doors to open inside the building once the trailer has backed into the dock thus improving productivity and enhancing security. Since it is no longer necessary to stop short of the dock to open, close, or secure the trailer's doors, reduced downtime is certain to produce tangible results.


3. Maintenance Considerations:
Structural, mechanical, and hydraulic components are visible and easily accessible to maintenance personnel for adjustments, operational checks, and daily housekeeping. Productivity and efficiency with the vertical storing levelers. There is no time-consuming trailer repositioning of trailers or unnecessary air exchange through an open dock door, a common problem with "pit style" dock levelers. Since vertical levelers store in front of the overhead door and incorporate side run-off guards, customers virtually eliminate door damage from impact with lift trucks or staging products in and around dock doors.
The PowerAmp-VS series leveler stores in the vertical position, protecting the overhead door from damage. Overhead rack storage can be added to maximize empty pallet storage.


CentraPower® System by PowerAmp
If your business requires four or more dock levelers, you can reduce the expense of operating and maintaining multiple individual pumping stations by using a single hydraulic source, CentraPower® System by PowerAmp.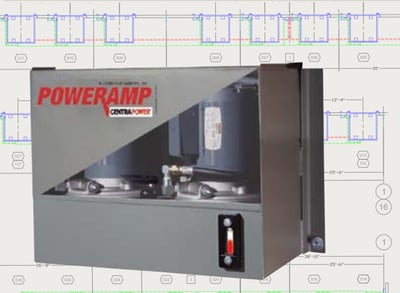 CentraPower® is an easy-to-install, cost-effective, multilevel remote system. CentraPower® consolidates the individual electric motors, pumps, and reservoirs of several standard levelers into one convenient hydraulic pump station. The reduction of "home run" electrical runs, disconnects, and control wiring can produce significant "first cost" savings while simplifying maintenance requirements. Additional system assurances are afforded as CentraPower® comes standard with a backup motor and pump assembly for complete peace of mind.


Application Considerations for Vertical Dock Levelers

Individual pits can be formed by notching around door jambs to allow the door to close firmly to the pit floor, creating room for staging between pits. A continuous pit is more economical to construct and permits easy access for housekeeping.

Proper bollard/control stanchion design and placement control access to the pit area. Where power doors are utilized, restricted access to the pit area can be accomplished by widening control stanchions.



A continuous pit is ideal when opening trailer doors into the building, a desirable application consideration for enhanced environmental and security control.
Specialty Dock Levelers Vertical Storing
Structurally Superior By Design!
The start of any successful VS-series leveler installation begins with a complete review of the customers' application and design parameters. Systems' team of design and application engineers use Computer-Aided Design (CAD) to optimize loading dock efficiency into the building layout. PowerAmp-VS series, vertical levelers are a smart investment and come loaded with "Superior By Design" features such as:
• Rear Embed Channel - Factory welded hinges and strategically positioned concrete anchor straps on rear embed channel.
• Structural Superiority - Wide flange "I" beams provide unmatched strength and added deck support.
• Vertical Laminated Bumper - With gusseted bracket and load distribution plate ensure building protection from a trailer positioning.
• Extended Service Range - PowerAmp's low profile/wide flange structure permits 10" above and 8" below dock service range.
• Infinite Leveler Control - A NEMA 12 industrial enclosure allows independent raising and lowering of both deck and lip.
• Choice of Power Units - Choose from the remote power unit, under deck mounted or our exclusive CentraPower®.
• Power-Down Control - Protective Collard push-button type control requires constant pressure on the lower button for leveler to lower. A "free-float" feature allows unrestricted float in the working range.
• Hydraulic and Mechanical Storage Lock - A mechanical storage lock provides redundant safety while the leveler is in the stored position. The automatic push-button release of the storage lock is accomplished with a Trombetta solenoid valve. An optional indicator light alerts the operator when the dock leveler is properly stored.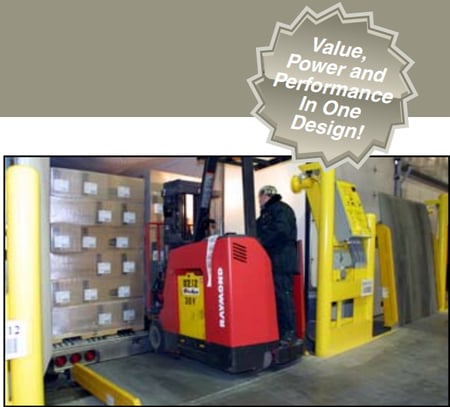 Full and independent control of dock leveler lip and dock functions permits easy "end loading" when trailers are fully loaded to the rear of the trailer.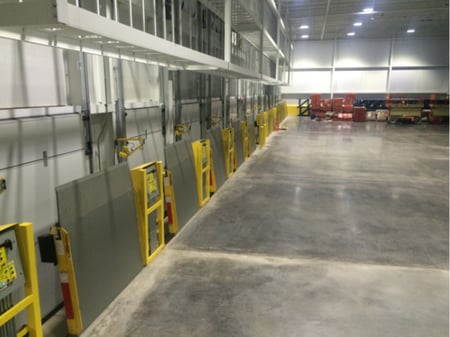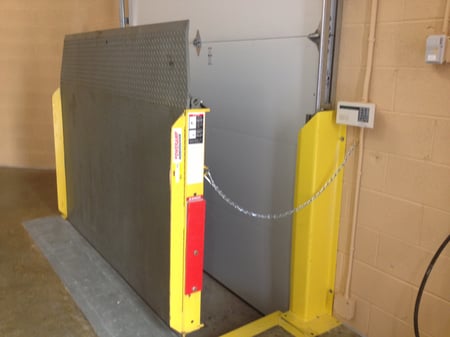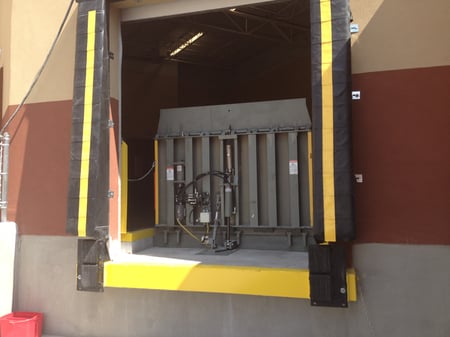 Our super techs provide quick response and reliable installation, repairs, and maintenance for your vertical storage leveler and other loading dock equipment.


→ We also offer: Dock Leveler Repairs & Dock Levelers Preventive Maintenance Plans ←
→ Learn About: Hydraulic Dock Levelers, Mechanical Dock Levelers,
and Air-Powered Dock Levelers ←


For more information, please give us a call at 973-471-4060 or email us at info@loadingdock.com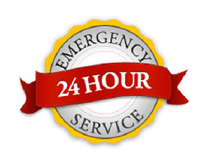 We service Northern New Jersey (Bergen, Passaic, Union, Essex, Morris, Hudson, Hunterdon, Somerset county/counties), Manhattan, New York City, Brooklyn, Queens, Staten Island, Bronx, Westchester and Rockland.