When you're looking for dock leveler repair, you want it to be fixed quickly. As long as its not functioning well it may affect the productivity level of your business and will take a negative effect to your profit. You also want that kind of loading dock repair service that will make your dock levelers work efficiently for long time, delivering convenience and safety.
Loading Dock Inc, has an extraordinary repair team that can replace and repair any kind of damage to loading dock equipment, Including service, replacements, parts and repairs for your Blue Giant Dock Plate Equipment.
Blue Giant Dock Levelers started manufacturing dock leveler plate equipment since 1963. They offer dock levelers for any type of material-handling operations.
Find out the list of Blue Giant Dock Plate equipment that we service by reading more below.
Pit Style
Blue Giant Pit Style Dock Levelers are available in Hydraulic, Air powered, Mechanical and Alternative Installs.
Blue Giant Hydraulic Dock Leveler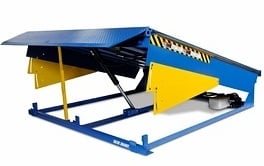 Excellent quality
Effortless operation
Cutting-edge safety feature
Guaranteed increase in work production
Heavy Capacity Hydraulic Dock Leveler
Has ingenious design that enables full with connection from the lip to the truck bed
Includes Assured Motion Float capability for protecting tires, load and forks from further damage
Airbag Dock Leveler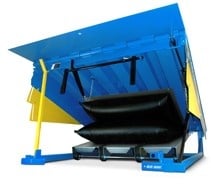 Allows full width connection from the lip to the truck bed.
Bag is made from PVC coated Polyester, it is highly durable and puncture resistant.
It has mechanical fall-safe legs for added safety.
Ideal for extreme temperature operations, tough usage and abrasive substances
Mechanical Dock Leveler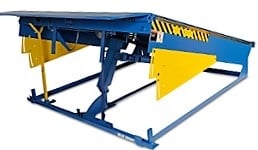 Friction brake allows the deck to smoothly conform with the trailer height.

With U- Beam Deck Support System
Easy to use and dependable
Alternative Installs:Pour-in Pans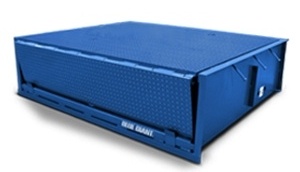 Pocket- friendly solution for forming a square pit
Convenient to use
Curb Angle Kits
Available in varied configurations; a four piece, six piece and eight piece. Each configuration has unique parts, they also have Special Angle Curb Kit for Scissor and Dock lifts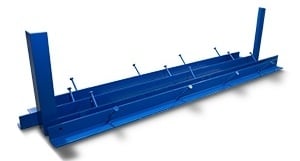 Any kind of Loading Dock Equipment can become rusty, worn out and more likely to malfunction over long period of heavy use. The unquestionably best and budget friendly solution to your damaged Blue Giant Loading Dock Plate Equipment is to have them fixed and replaced by our highly skilled team of repairmen at Loading Dock Inc,.
Free-Standing Frame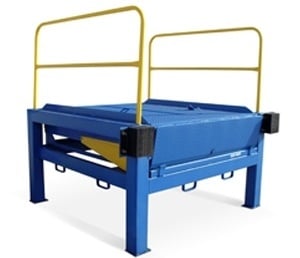 Conforms to all Pit- Style Dock Leveler proportions
With Bumpers and Guard Rails for added safety
Limitless, can be used with any type of Hydraulic, Air-Powered and Mechanical Dock Leveler
Vertical Storing
VL Dock Leveler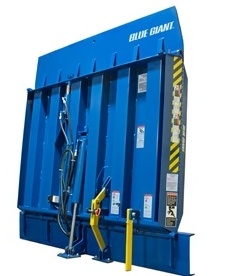 Features IntelliTilt™ Technology for safe and precise dock assembly.

SmartFloat™ enables the deck to smoothly conform trailer movement during operation.

it has a touch control panel

Blue Genius™ Gold Series that makes it more convenient to use.
Xtra Dock Safety
Blue Giant XDS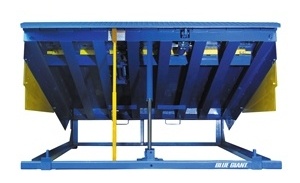 Also features Blue Genius™ Touch Control Panel for convenient operation.

Can operate up to 12" over and below the dock leveler.

Has stabilized side toe guards for added security during operation and inspection
Get the Best and fastest solution for your Blue Giant Loading Dock Plate Equipment concerns. Excellent performing and safe to use loading dock plate equipment are keys for productive business, good profits and less accidents in work area. Click the button below to schedule an estimate and have your Blue Giant Loading Dock Plate Equipment checked by our team of experts at Loading Dock Inc,.
For more information, please give us a call at 973-471-4060 or email us at: info@dockndoor.com. We serviceNorthern New Jersey (Bergen, Passaic, Union, Essex, Morris, Hudson, Middlesex, Hunterdon, Mercer and Somerset county/counties), Manhattan, New York City, Brooklyn, Queens, Staten Island, Bronx, Westchester and Rockland.