Workers' safety in factories and warehouse operations should always be a priority. Over the past few years with the pandemic going on, this concern has even increased, and high-speed doors have played an essential role in keeping safe and sanitary environments.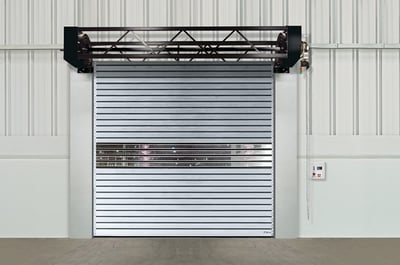 Metal High-Speed Door

It is well known that warehouses are often full of heavy load moving machinery, thus, they are one of the most dangerous places to work. To ensure the safety of your employees, it is crucial to have effective safety procedures.
High-Speed Doors for Workers' Safety in Factories & Warehouses

Here are some tips to help ensure the safety of your business:

1. Hands-Free Operation: High-speed doors nowadays are equipped with proximity sensors and some other devices that detect the presence of equipment, forklifts, and even people. They send a signal for the door to open and close. This is an essential measure that ensures workers' and overall plant safety under any circumstances, pandemic or not. These kinds of doors have multiple advantages: operators don't have to take their hands off controls or get off their machines to activate the doors manually, thus helping the facilities to maintain safe operations. Furthermore, they are most useful during this pandemic because they avoid unnecessary touching of buttons, reducing germ and virus spread, and as a consequence, ensuring their employee's safety and health.

2. Advanced Safety Features: Modern high-speed doors offer a considerable amount of safety features that keep the personnel safe:
- Light curtain safety system: It constantly monitors both the door opening as well as the areas adjacent to it for any potential obstructions. And it can be customized for different applications and locations.
- Safety light systems: They provide increased safety and warning in the door threshold by detecting if there is a person or any other obstruction blocking the door's path and preventing it from closing. There is another type of system that provides visual indicators near the door, such as a flashing light or a strip onto the floor across the threshold, warning the people around that the door panel is about to move.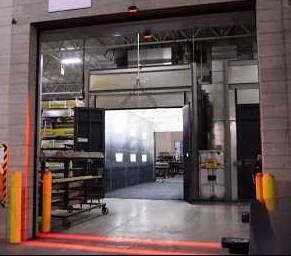 - Soft bottom edge: The doors that have this feature can virtually eliminate entrapments because they can flex around obstructions very easily.
- Reversing bottom edge: The door will automatically reverse when the sensors located along the bottom edge sense an obstruction.

- Manual open option: This is useful in the event of a power loss because it provides the employees the possibility of being able to open the door manually.

- Minimal opportunities for impact between doors and material-handling vehicles: Normally, material-handling vehicles rarely catch up with high-speed doors. In the rare event that they do collide, there are certain models that have a quick reset feature to put the door back in service quickly, helping to minimize downtime.
- Keeping sanitary conditions: There are certain stringent requirements that food processing and warehouse facilities must follow for the overall cleanliness of their operations. Pharmaceutical production facilities require doors that can keep tight seals in order to minimize air infiltration caused by pressure differentials. Nowadays, high-speed doors open and close quickly, which minimizes any chance of contamination. When needed, you can purchase a high-speed door that is designed specifically to minimize bacteria and any other impurity growth such as the clean room doors.


In conclusion, each of these features helps increase safety and productivity in your workplace. Wait no more and enhance the safety of your employees by upgrading your fast roll-up doors.

If your warehouse or factory still uses a regular sectional overhead door, it may be time for an upgrade to a high-speed door for safety and efficiency reasons.

Hesitate no more and contact us today! We have a team of experts that will guide you in the process. Loading Dock, Inc. offers a full line of commercial and industrial doors, garage door operators, and commercial garage door accessories to meet your project needs.

We've been selling, installing, and serving commercial and industrial doors, as well as loading dock equipment for 40+ years!!

We service Northern New Jersey (Bergen, Passaic, Union, Essex, Morris, Hudson, Hunterdon, Somerset county/counties), Manhattan, New York City, Brooklyn, Queens, Staten Island, Bronx, Westchester, and Rockland.


Contact Us:
Phone: 973-471-4060
Email: info@loadingdock.com
24-Hour Emergency Service Available for Existing Customers