Modern logistics and operations require special high-speed doors for warehouses and distribution to operate at full efficiency. Choosing the right fabric high-speed door, high-performance door is a big decision. Many companies turn to Rytec doors as it is considered the industry leader in reliability and performance.
Click to Learn More About Fabric High-Speed Doors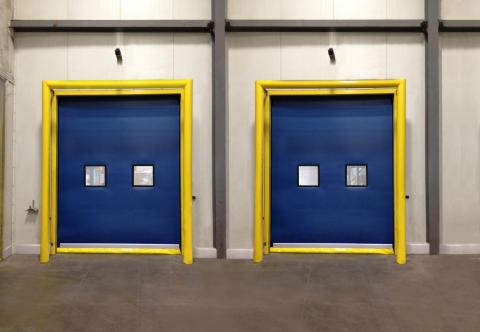 Rytec High-Speed Doors (Fabric Doors)
Rytec doors are designed and built with quality and long-term durability as a fundamental requirement. The company's extensive experience allows it to tailor a wide range of specialty doors to specific industry needs and applications.
Benefits of Installing Rytec's High-Speed Doors, High-Performance Doors
Our team at Loading Dock, Inc. turns to Rytec as a preferred vendor because we know they provide high-performance doors that:
✓ Increase productivity
✓ Enhance traffic flow
✓ Reduce traffic flow
✓ Allow for safer operations


Rytec Doors for Warehouses
When it comes to fabric high-speed doors and high-performance doors for manufacturing, warehousing, and distribution, Rytec has the optimal solution for your project, whether it is new construction or retrofitting existing facilities. Rytec's innovative and proprietary fast-rolling doors include:
1. Rytec

Fast-Seal® - Commercial Roll Up Door
Considered the best exterior high-performance door available in the industry, Rytec's Fast Seal® has a patented Break-Away™ bottom bar that allows the door to take a hit and be reset without tools in seconds, and System II counterbalance and tension system.
2. Rytec Turbo-Seal® - Insulated Commercial Roll-Up Door
If temperature control or cold storage is your need, you won't find a better solution than these low-profile breakaway doors. The average speed of this high-speed roll-up door is unprecedented: up to 101 inches per second (the highest to any insulated roll door).


3. PredaDoor® NXT®
This best-selling high-speed door comes in several models, all of them designed to deliver next-generation features and performance. You get amazing reliability along with surprisingly low maintenance with the NXT Quick-Set™ repair system and System 4® door controller. This fabric rolling door allows can take a hit and be reset without tools in seconds,


Don't compromise or lower your standards when it comes to your high-speed or fast-rolling doors for warehousing and distribution applications. Call us today for a turnkey solution to the selection, installation and long-term support.




For more information, please give us a call at 973-471-4060 or email us at info@dockndoor.com

We service Northern New Jersey (Bergen, Passaic, Hudson, Union, Essex, Morris, Hudson, Hunterdon, Middlesex, Mercer and Somerset county/counties), Manhattan, New York City, Brooklyn, Queens, Staten Island, Bronx, Westchester and Rockland.