The recessed, or pit-style dock leveler is the most common type of dock leveler because it has a greater operating range, load range, and life expectancy. Dock levelers (also known as dock plates) are most often installed into pits that are formed into the concrete ahead of time. The pits are sized to meet the exact requirements of the dock levelers being used.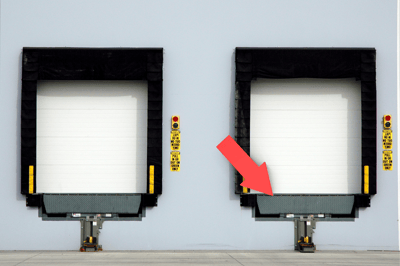 Recessed or Pit-Style Dock Leveler


The standard range a recessed dock leveler can serve is 12 inches above and 12 inches below dock height. Special configurations of dock levelers can serve as much as 18 inches, above and below, depending on ramp length and pit depth. Recessed dock levelers are available with a spring-loaded mechanical activation system or powered with a push-button activation system. Powered dock levelers (with push-buttons) are easier to operate and are activated by either air or hydraulic system. Although the initial cost of a mechanical dock leveler is less than a powered dock leveler, the long-term operating cost for a powered dock leveler can be lower.

Suggested Article:
Do I Need To Replace or Repair My Dock Leveler (Dock Plate)?
1. Mechanical Dock Levelers
Mechanical dock levelers are suitable for most applications. Mechanical dock levelers do not require expensive electrical provisions and hookups. They will operate even during power failures. A mechanical, spring-loaded dock leveler (2) is upwardly biased with a spring and linkage system. It is held down by a releasable hold-down device. To raise the ramp, pull the release chain connected to the hold-down mechanism. Then, walk out on the ramp to force it down onto the truck bed. Once on the truck bed, the ratchet mechanism re-engages to prevent the ramp from rising again.
A mechanical dock leveler requires routine maintenance, lubrication, and adjustments for reliable operation.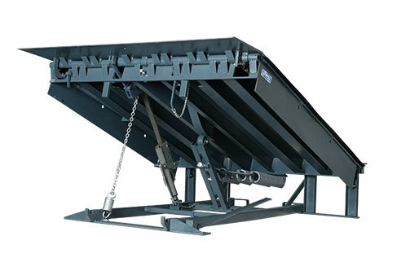 Mechanical Dock Leveler
Mechanical Free Fall
Mechanical safety legs prevent the ramp from falling more than 4 in. below dock level. The legs must be manually retracted to permit servicing a trailer below this level. Although safety legs do improve safety, safety can be better addressed by using hydraulic dock levelers with hydraulic free-fall protection.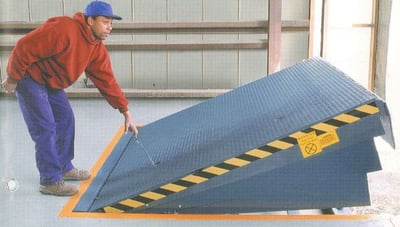 Mechanical Dock Leveler
Full-Range Toe Guards
Full-range toe guards close off the sides of the dock leveler when the ramp is in the fully raised position. Full-range toe guards eliminate pinch points at the sides of the ramp during lowering. Full-range toe guards are standard on hydraulic and air-powered dock levelers, while mechanical dock levelers include toe guards that cover the working range of the dock leveler with full-range toe guards as optional equipment.





2. Powered Dock Levelers
Powered units are initially more expensive, but they offer many benefits. Powered dock levelers are easy to operate and do not require the operator to bend and pull a release chain to operate. Activation takes place through constant-pressure push-button controls. Powered dock levelers are also safer than mechanical dock levelers due to the flexibility of the power source. Powered units also facilitate interlocking to other loading equipment and motorized overhead doors.
- Hydraulic Dock Levelers:
A push-button hydraulic dock leveler (3) is powered by a hydraulic system that raises the ramp. This design is very reliable but requires more maintenance than an air-powered design.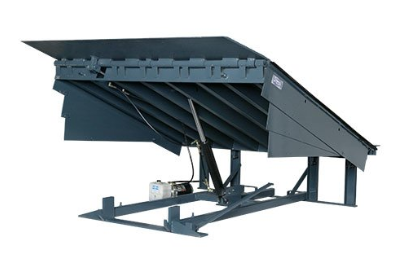 Hydraulic Dock Leveler
Air-powered dock levelers (4) incorporate the use of a low-pressure, high-volume air system to raise and lower the platform. A single push button activates the air-power system to raise the leveler and extend the lip. This simple, very reliable design requires only minimal maintenance.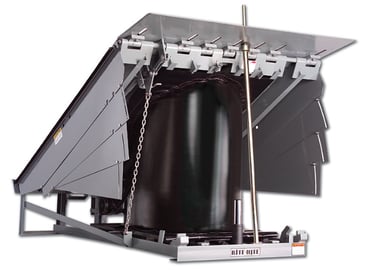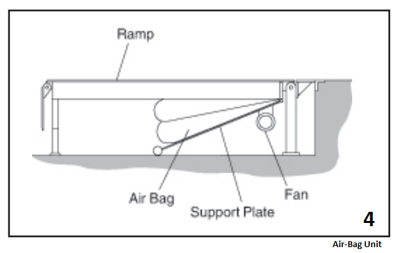 This dock leveler is stored in a vertical position, allowing you to store the leveler inside the building. Ideal for a building where environmental control is needed.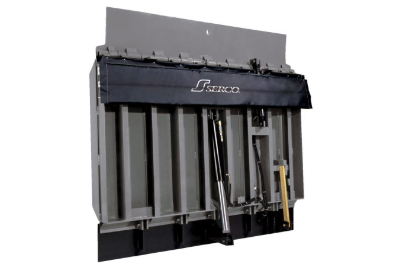 Vertical Storing Dock Leveler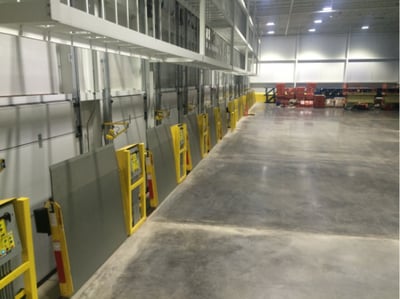 Vertical Storing Dock Leveler
Safety Features for Powered Dock Levelers/Hydraulic Dock Levelers:

✓ Auto Return
Auto Return is a safety feature on hydraulic units that automatically returns the dock leveler to its stored position when the truck leaves. This feature is important because powered dock levelers are downward biased. The energizing of the hydraulic system causes hydraulic dock levelers to move upward.

* Note: An airbag dock leveler moves up as the bags are inflated by the electric air pump. The dock leveler is moved downward by its weight and the force of gravity. A powered dock leveler in its raised position lowers unless it is supported by pressure, the truck bed or another device such as a maintenance stand. If a dock leveler does not have Auto Return, when the truck drives away, the dock leveler's ramp and lip settle on the dock leveler's bottom support stops. This causes a hazardous slope toward the door in the floor. If a dock leveler does have Auto Return, the dock leveler automatically returns to the stored position.

✓ E-Stop
The emergency ramp stop is a safety feature that allows the operator to immediately stop the ramp at any time by pressing a button on the control panel. Hydraulic fail-safe protection prevents the dock leveler from lowering to avoid the loading vehicle rolling off the dock. A velocity fuse on the base of the hydraulic cylinder locks the cylinder and limits the ramp in place when a loading vehicle is on the ramp and the truck pulls away.


✓ Interlock Features
Powered dock levelers can be interlocked to other pieces of loading dock equipment such as truck restraints and overhead doors. Interlocking the loading dock equipment increases safety. When interlocked to a vehicle restraint, the dock leveler can operate only if the trailer is restrained. If the trailer cannot be restrained, an override switch allows independent operation.

✓ Full-Range Toe Guards
Full-range toe guards close off the side of dock levelers when the ramp is in the fully raised position. Full-range toe guards eliminate pinch points at the sides of the ramp during lowering.
Our experienced technicians at Loading Dock, Inc. are always prepared to cater on-call or regularly scheduled maintenance for your recessed or pit-style dock levelers. They are equipped with comprehensive knowledge and the right approach in providing repairs, maintenance, and installment for loading dock levelers: hydraulic dock levelers, air-powered dock levelers, and mechanical dock levelers.
Suggested Articles:
→ What is a Dock Leveler? ←
→ Edge-of-Dock Levelers for Light Duty Applications ←
→ Which Dock Bumper Is for Me? ←
→ Do I Need To Replace or Repair My Dock Leveler (Dock Plate)? ←
For more information, please give us a call at 973-471-4060 or email us at: info@dockndoor.com
We service Northern New Jersey (Bergen, Passaic, Union, Essex, Morris, Hudson, Hunterdon, Somerset county/counties), Manhattan, New York City, Brooklyn, Queens, Staten Island, Bronx, Westchester, and Rockland.