In today's world, security and low maintenance are crucial to business survival in such a competitive environment. A very important but frequently overlooked part of businesses is their garages. It is a common mistake to think that if a garage is open at all times, it does not need security. However, this is the main reason we should realize it is vital to keep unauthorized people out of these spaces. Installing a security grille on a 24-hr garage is the best way to reduce theft while increasing personal safety as well.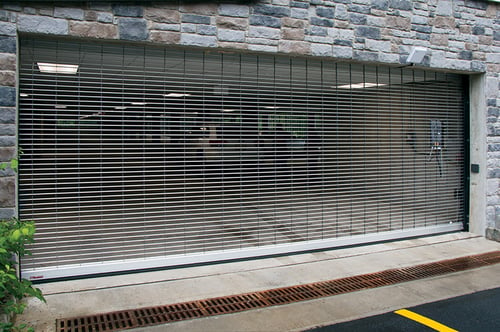 Security Grille Installed in Parking Garage

The one aspect that often gets overlooked is the parking facility security needs for industries, large corporations, and institutions as well. With the operation increased load of work, a lot of large companies and educational institutes are forced to offer longer hours of access, mostly 24/7. Thus, the importance of installing security grilles. Security grilles provide an attractive yet functional means to secure areas where public access must be restricted. They provide security without sacrificing visual access, light infiltration, or air circulation.

Burglary and vandalism are one of the major concerns for any business. It can be devastating and can cause large amounts of emotional as well as financial stress, of course. These roll-up doors are a great way to protect any commercial property. Most theft is opportunistic because criminals spot weak points in the security of buildings they cross on the street.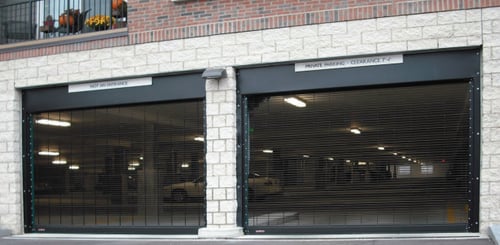 Security Grilles Installed in Parking Garage


Upward coiling security grilles are the perfect solution to increase safety at all times because a complete parking gate system with security gates can easily control access to the garage and its contents without personnel requirements.


Reasons to Install a Security Grille in Garages and Parking Lots:
- Installing a Security Grille in a Stadium Parking
Locations where people and their valuables are together at the same time, such as in a parking garage, are the favorite targets for criminals. Both security companies and law enforcement have long known that. A parking area is an easy target full of tempting assets: From personal theft and assault to vandalism and public intoxication.
Liability Consultants, Inc., conducted a study of more than 1,000 premises security liability lawsuits throughout a ten-year period. The study revealed that in almost one-third of all the cases reviewed, the basis of the lawsuit was a murder, rape, robbery, or assault that occurred in a parking lot or garage. These parking facilities were attached to office buildings, hotels, apartments, nightclubs, bars, retail stores, shopping centers, and garages open to the general public. The study also found that jury awards or pre-trial settlements to the plaintiffs in the lawsuits averaged between approximately $1 million for assaults and $2.75 million for homicides. Juries have overwhelmingly decided that any establishment attached to a parking area bears the responsibility for protecting its patrons, students, or employees from harm in the parking area.
As you can see, security is a real issue for parking garages. The fact that parking garages allow more vehicles to be parked in the same amount of space makes them the perfect scenario for vandalism. In conclusion, implementing a parking gate system using security grilles is a major preventative step and one we should really consider for taking care of each other.
No security plan is perfect, though. Access control is an important means of reducing criminal opportunities. It is gained through controlling the entering and exiting of pedestrians and vehicles. For a security measure to be preventative, it has to physically stop a potential criminal from committing a crime, so security grilles are a great access control solution!
- Installing a High-Performance Rolling Door in a 24-Hour Parking Garage
When a parking garage is accessible 24-hours a day, there is an increased chance of crime. Surveillance, patrols, the amount of pedestrian traffic, and the likeliness of being seen are dramatically diminished in the late evening and early morning hours.
However, we can decrease the rate of vandalism by giving limited access to a parking structure. The perfect way of controlling access to unauthorized pedestrians and vehicles to the parking garage is the installation of a security gate system in combination with an identification access system. It is crucial to understand that only preventing access can really stop crimes from happening. The most effective means to control parking garage access is to install an overhead rolling security grille.
- Parking Garage Roll-Up Doors for Resident Buildings on College and School Campuses
In today's world, it is very common to hear of lots of tragic events taking place in schools and colleges, which really have a negative impact on society. This is the main reason there has been a considerable increase in requests for installing automated parking gate safety systems for school and college projects to properly lock down either sections or even entire campuses.
In this case, the easiest thing would be installing a parking garage roll-up door, or a security grille are the best solution. Security grilles are made of interlocking metal links that have a solid rod running through eyelets in each end. The links can be manufactured in various metals, sizes and thicknesses and are typically arranged in a straight or brick pattern.
- Security Grilles for High-Security Facilities
Most government facilities, high-tech firms, and other high-risk locations have increased building safety for all intents and purposes. For this reason, terrorists, criminals, and other bad actors have been forced to get creative, and they really are. If we analyze the 1993 bombing of the World Trade Center, we will realize that it was possible partly because of open access to a public parking garage under the north tower.
In conclusion, the best way to prevent tragic situations is to restrict access to vulnerable areas. If we've learned anything in the past several decades, it is that we can not take any security measures for granted. Security grilles are a fantastic way of showing criminals that you have put some thought into protecting your business. A thief will want to make the burglary as quick, quiet, and simple as possible and a security grille will make their whole task much more complicated for sure.
We offer multiple customizable designs in overhead rolling grilles, that allow high-target establishments to secure areas without having to enclose the entire area.
- Security Rolling Doors for Commercial Establishments and Hospitality Businesses
Securing a facility includes all areas that patrons and employees use, such as surrounding lawns, public spaces, and of course, parking garages. This is exactly what the hospitality industry has become aware of: security and safety do not just involve the square footage inside the premises, it goes further.
For instance, the regular parking arm barriers are not the best security measures for guests anymore. They expect a hotel's parking structures to be as safe as its lobby. Using an adequate parking gate system provides guests not only peace of mind, but it also discourages thieves, and really reduces unauthorized access to hotel facilities. These are more than enough reasons to install a parking security gate system.
Security gates are a simple, cost-effective deterrent for property crime as well as any other criminal behavior.
- Retrofitting Security Grilles for Existing Parking Facilities
One issue that has stopped several parking facilities from installing a rolling gate, is that most of them take up 24" or more space in the headroom. The reality is that with 2010 ADA guidelines requiring at least 98" of clearance for handicapped accessible vans, most existing parking garages do not have enough space to give up. The good news is that there have been new compact security grilles that not only take up 50% less room, but they offer high-speed, high-performance capabilities as well.
Security Grilles for Low-Headroom Applications
At Loading Dock, Inc., we offer a parking garage security grille that not only offers high-speed and high performance but is perfectly engineered to occupy the smallest amount of headroom on the market. So it really solves the problem! Short on the space required for installation, but long on handsome good looks, our security grilles secure premises and guard against theft and debris with superior compactness and nearly endless design possibilities.
We provide a range of high-quality security grilles perfect for any commercial business. All our security grilles are made to measure and fitted precisely by our expert team so you can rest assured that our high-performance doors will offer the best possible protection from intruders.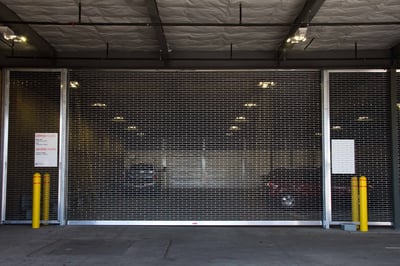 Springless Security Grille Installed in Parking Garage
By installing a security grille in your parking garage, you will reduce the risk of tailgating and piggybacking activities or unauthorized individuals accessing the facility and provide optimal traffic flow. Our open-air model grilles provide security while allowing full visual access and air circulation. Some of our security grille models require almost no maintenance other than routine checks and no replacement parts.
Feel free to contact us to discuss the installation or service of a security grille for your property, or to ask for more information about any of our commercial doors, industrial doors or loading dock equipment. All you have to do is pick up the phone and there will be someone ready and happy to assist you. Call 973-471-4060 or email us at info@loadingdock.com
We have 40+ years of experience and happy customers that back us up. It is an investment worth doing. Be part of our family and obtain real security literally at your door!