A dock leveler (also known as dock lift plate) is a metal bridge that covers the gap between the dock floor and the transport vehicle, protecting your material and your staff during the loading/unloading.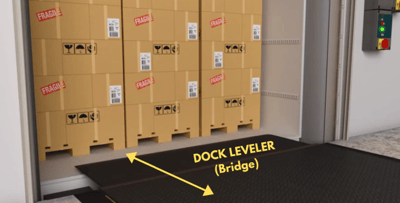 Dock Leveler: Acts as Bridge Between a Dock and a Truck
In this article you will learn:
1. What Are the Different Types of Dock Levelers?
1.1 Pit Levelers
1.2 Edge-of-Dock Levelers
1.3 Vertical Dock Levelers
1.4 Rail Dock Levelers
2. How Do I Choose a Dock Leveler/Dock Plate?
3. Manual vs Powered Dock Levelers
4. Available Sizes and Capacities
5. Accessories to Increase Safety in the Dock Area


→ We also offer: Dock Leveler Repairs &
Preventive Maintenance Plans ←

---

1. What Are the Different Types of Dock Levelers?
Dock levelers (also known as dock plates) come in a variety of types.
1. Pit Levelers:
Pit-style dock levelers are found in a recessed concrete opening in a building's
concrete at the dock door. The main sub-categories of pit levelers are:
1.1 Mechanical Dock Leveler

(also known as Mechanical Pit Leveler)




1.2 Hydraulic Dock Leveler

(also known as Hydraulic Pit Leveler)




1.3 Air-Powered Dock Leveler

(also known as Air Pit Leveler)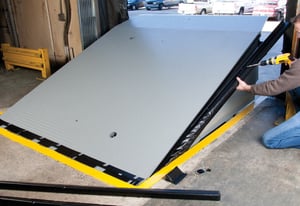 Pit-Style Dock Leveler

2. Edge-of-Dock Levelers (EOD)
The EOD are an upgrade from portable dock boards, but still a less expensive option compared to a pit or vertical dock leveler. These have a limited vertical operating range and is geared toward applications where the transport vehicle bed is
at, or very near, the floor level of the building (dock level).
- Mechanical Edge-of-Dock Levelers
- Hydraulic Edge-of-Dock Levelers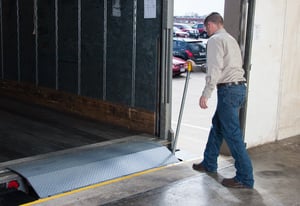 Mechanical Edge-of-Dock Leveler

3. Vertical Storing Hydraulic Dock Leveler
This dock leveler is stored in a vertical position, allowing you to store the leveler inside the building. Ideal for a building where environmental control is needed.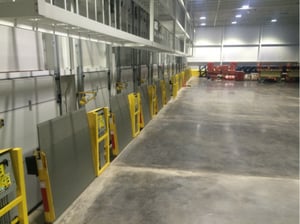 Vertical Storing Dock Levelers

4. Rail Dock Leveler
These levelers involve a variation on the vertical leveler and are used to service rail cars. They are usually mounted on a sliding rail that allows them to move
horizontally along the rail track.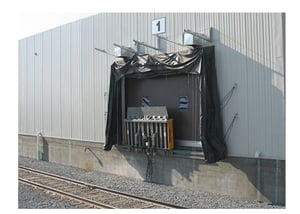 Rail Dock Leveler


→ Click here to learn more about each type of dock leveler and dock board.
2. How to Choose a Dock Leveler/Dock Plate?
There are many different dock levelers to choose from. We suggest keeping in mind the following considerations while you're making your decision:
- The volume of traffic: How frequently will you use the ramp?
- The total gross weight of your loads: What is the maximum load you expect the leveler to handle? Make sure you include both the weight of the lift truck and cargo when determining the load
- The difference in height between the trailer & the dock: What range of trailer deck heights do you need to accommodate?
- What's the operating environment like? In refrigerated warehouse applications or facilities located in cold climates, insulation requirements will dictate the style of dock leveler that you'll need
- Anticipate future needs: Selecting a dock ramp to meet your future needs avoids the costs of having to replace an obsolete leveler in the future.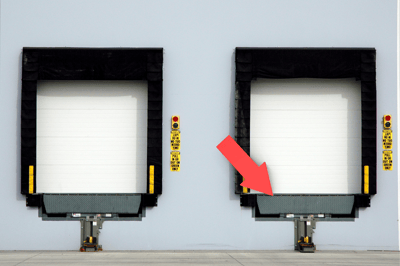 Dock Leveler (Dock Lift Plate)
3. Manual vs Powered Dock Levelers
- Manual dock levelers (mechanical levelers) are well suited for most low-traffic docks. These require no electrical connection and the simple operating principles will provide years of trouble-free operation. It's important to mention that these mechanical units will have much higher maintenance costs in the long run.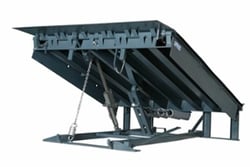 Mechanical Dock Leveler (Manual Leveler)

- Powered dock levelers (hydraulic levelers) are well suited for higher volume docks. The extra cost of a powered leveler is easily justified when you consider the benefits to dock productivity, worker safety, and the lower long-run maintenance costs.

Hydraulic Dock Leveler (Powered Leveler)
4. What Are the Available Sizes and Capacities of the Dock Levelers?
Dock levelers are designed to work at various heights and accommodate various weights. For example, if you expect light ramp loads (less than 20,000 lbs.) and little variation in trailer heights (within a 3" range above or below dock height), a mechanical or a hydraulic edge-of-dock leveler (EOD) could be a good choice.

If you load/unload from a variety of trucks and/or trailers, or handle heavy cargo, you will appreciate the extra functionality of a pit-style dock leveler (also known as recessed style dock levelers). This is the most common type of dock leveler because it has a greater operating range, load range, and life expectancy. Pit levelers require concrete modification to the loading dock to accommodate the leveler, but the recessed pit and ramp leveling mechanism provide easy alignment with a range of trailer heights.
Dock plates/dock levelers come in different sizes, from 6' to 7' wide and from 6' to 12' long). The most common dock leveler capacity requests are from 25K to 35K, but at Loading Dock, Inc., we have up to 100K available.



5. Accessories to Increase Safety in the Dock Area
At Loading Dock, Inc., we suggest to accompanied your leveler systems with truck restraints, and light communication systems to help prevent accidents caused by premature trailer departure.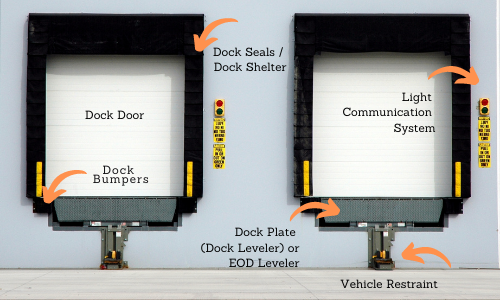 Installing dock bumpers and dock seals/dock shelters in your facility can bring additional benefits to your facility.

Suggested Articles:
→ What is a Dock Leveler? ←
→ Which Dock Bumper Is for Me? ←
→ Do I Need To Replace or Repair My Dock Leveler (Dock Plate)? ←
Our sales team has the knowledge and vast experience to help you with equipment selection and is available to assist you with your next leveler purchase. We've been serving NYC & NJ area for 40+ years.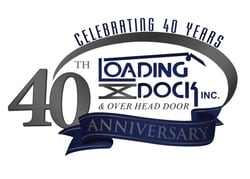 For more information about dock levelers, or any other loading dock equipment need that you may have, please give us a call at 973-471-4060 or email us at info@dockndoor.com.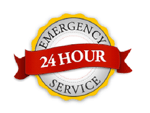 We service Northern New Jersey (Bergen, Passaic, Union, Essex, Morris, Hudson, Hunterdon, Somerset county/counties), Manhattan, New York City, Brooklyn, Queens, Staten Island, Bronx, Westchester and Rockland.